February 18, 2017 at 10:37 pm
#10282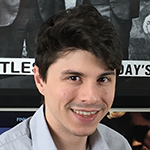 Andrew
Keymaster
Ok, so the giveaway is def happening as I just bought this Luna Pineapple Uke on Amazon! I'll make an official announcement soon.
Another idea: as I'm working on finishing up our new fingerpicking course (to be released in March), we could "theme" the site member challenge to be on: fingerpicking. So you have to pick one from the following 3:
1) Our First Song
2) Aura Lee
3) Fingerpicking Etude no. 4
This reply was modified 6 years, 3 months ago by

Andrew

.