June 25, 2017 at 12:29 pm
#12508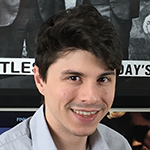 Andrew
Keymaster
Welcome Jennifer, glad you found us 🙂 I can definitely help you! I'd like to learn a little bit more about where you are currently at and what you want to get out of your playing.
You mentioned playing in a group. If you're looking to advance your playing in this type of situation, then you joined Rock Class 101 at the right time. On July 7th, I am releasing our brand new course: An Introduction to Music Theory and Jamming. This course is all about learning how to add to the music. Often times in jam situation, we find ourselves playing the same parts as others. So if you're looking to break away from just strumming chords and want to learn how to create harmonies and solos, then this course will be perfect for you.
If this is what you want to improve on, take a look at our concept lessons. These lessons would be a great place to start.
Let me know what else you are interested in, and I can help steer you in more directions.
Cheers,
Andrew