July 13, 2017 at 3:53 pm
#12813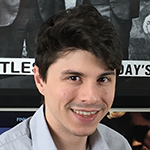 Andrew
Keymaster
Thanks Will, I'm glad you are enjoying the course! It is vital to understand module 1 before moving on to module 2 and 3. An understanding of the theory taught in module 1 will be required to comprehend the lessons taught in module 2 and 3. To answer your question about memorizing the fretboard, that is something that will take time. A complete memorization is not required for moving forward throughout the course. I would recommend to print out the fretboard diagram showing the notes as you can reference this throughout the course.
If you have any questions on the material don't hesitate to ask. I'm happy to help 🙂
Cheers,
Andrew
* Here's a link to the Music Theory Course for those that are unfamiliar with it.