July 23, 2017 at 9:47 pm
#12937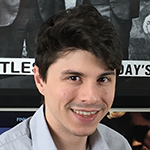 Andrew
Keymaster
Great job Cory! Was that a little AC/DC at the end of the first tune? I think on the last strum (before switching back to fingerpicking) your finger got caught on the string, which is why it rang out. Unfortunately it caused the C string to ring out, which is a bad note for a song in the key of A. But, no biggie 🙂 A trick that I use a lot of times, is to simplify the rhythm of the last hit to make the transition easier. So for the last bar of that strumming section, you could play it all as quarter note hits. That'll buy you more time to switch back to fingerpicking.
And awesome job on Aura Lee!
—-
Sounds good Ed! Thanks for participating. I mentioned earlier a great point for more advanced players in regards to this month's challenge being beginner themed. Since that post is buried far back and we're on page 5 now, I'll go ahead and copy and paste it below for other members to reference:
I've received a few emails from more advanced members stating they were going to sit this month's challenge out because it is beginner themed.
Now this brings up an interesting thought on my end. Yes, this month's songs are easy, but the challenge for an intermediate and advanced player lies in how you perform the piece.
The hardest part of playing is: The feel, achieving clarity in every note, and timing. So, I would like to see everyone who's an Intermediate to Advanced player participate in this month's challenge with these three criteria as your goal.
—-
Great job Compass Rose! In the first half, your timing was great. In the second half, it was a little off and that's because the second half is a little bit harder to play. I'd recommend to memorize the piece, this will allow you to put all of your attention on your performance, instead of your performance plus reading the sheet music. But overall, it sounds great! Keep up the good work 🙂