June 24, 2022 at 4:53 pm
#52403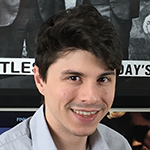 Andrew
Keymaster
@jlbross – Excellent duet, Jennifer! Playing and timing sounds great! Only a couple of things I want to point out. The fourth note in the first theme, you fretted the 1st fret of string 2 but hit the open C each time. I'd target your practice there so that you pluck the correct string.
Also in the first theme, there's some partial barres. I noticed that you're hugging the neck to fret these. Try to adjust your hand so that it looks like the barre chord form we recommend here. This should also help increase your dexterity when playing the melody notes before and after the barres.

@samash07 – Playing sounds great Sam! Just make sure you rest at the end of each theme for a quarter note before starting the next theme.
For timing, I'd recommend playing along with the harmony track with the metronome on throughout. Tap your foot as you go along and try to focus more so on the click than what the harmony is doing. I'll email you this play-along track. I bounced it so that the click is louder than the harmony 🙂

@leslieb – Loved the story and great playing, Leslie! Only thing I'm hearing is that there's a few notes with a bit of buzz, so just make sure you are keeping finger pressure held down and you're pressing near the metal fret closes to the sound hole like Matt shows in this video.