July 1, 2022 at 12:22 am
#52529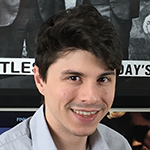 Andrew
Keymaster
Here's everyone on page 9.

@lbilkie
 – I thought you did a great job and I love seeing when you guys challenge yourselves! So I noticed that your tempo was a little bit too fast for comfort. So my first suggestion would be to slow it down and target the bars that were challenging, specifically 19 through 23. Lots of legato technique in these measures, which make them very challenging to play at the same speed as the previous bars.
So that's an area that you want to focus more so on. But if we think of it as a whole or in larger sections, try to play along with a metronome. We want to keep this tune nice and steady, like a march feel.

@janaq1 – You are a great player! Incredible job with note clarity – which is not easy to do with so much movement between chords! Feel was great throughout too.
And that intro, let's call it a fermata 🙂

@coffeemug – Great job and love the story you shared on it! One tip I've shared with a couple members this month is to keep your fingers planted as you build chords. For example, the E chord in bar 1. You're lifting up after each note. This cuts the sustain.
Double check that part in the lesson because I remember talking about tips for playing this tricky section.
I'd also recommend memorizing the piece. It sounds like you're close, but at the same time you're focusing a lot on reading it over performing it. So it comes across like you're going through the motions. Which was the same thing Marisa did in her performance which I talked about in this lesson.

@alysun1 – Great job! You've got a great base established, keep practicing and you'll have it nice and smooth 🙂

@dividedsky – Fantastic duet! This song also took me way too many takes, lol.

@docsiphon – Left and right hand form looks great. Note clarity is great. Timing is great. This is very impressive for 3 months. Whatever you're doing, keep it up!
P.S. Don't forget to add the Premium Member tag for K challenges 🙂

@annemarie – Excellent performance with great feel throughout! This is one of the strongest performances I've heard from you. It was really good! The only thing I'd suggest working on is bringing the measures that had legato up to speed (so bars 19 – 23 and the ones in the final melody). Keep up the excellent work!

@mademoiselleannette – Beautiful playing! My only suggestion is to memorize it which should help get some of those trickier transitions a little smoother.

@nelsonlin2021 – Way to go, Nelson! I love seeing you guys challenge yourselves! Did you get a chance to check out this lesson for vibrato technique? And this one for tapped harmonics?
They will break down the mechanics behind performing each of them. Your vibrato is a little bit too forced and the tap needs to be a quick on / off – like swatting those darn mosquitoes lol.
Go through those lessons and email me a follow up video. I'd like to see how you're doing with it.
So about the populele. I did a review on it and spent quite a bit of time with it. I don't like it. And that comes across in my article and video, although I wasn't as direct as I'm being right now.
I'd recommend purchasing an acoustic ukulele. Something about the fretboard with the populele is off. It just doesn't feel natural on your fingertips. Like your finger tip oils naturally sink into a wooded fretboard, they don't with the plastic populele.

@mkstewart67 – Bravo! Great feel and energy throughout! Couple little pauses here and there, but we'll chalk that up to nerves. Which we all get! It was great overall, keep up the excellent work!

@sarahd – Oh no! I hope you feel better soon. On a positive, it was a lovely take and I need to watch that performance on YouTube 🙂