August 22, 2022 at 2:40 pm
#53272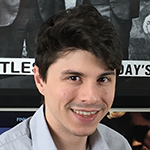 Andrew
Keymaster
@potato_lady – Even under water it sounds beautiful 🙂

@jedart – Excellent job! My only suggestion is to play along with me in the tab player or to a click to work on timing (keeping a steady tempo).
BTW, I just filmed a lesson for our new series, mini lessons, which is launching soon. The lesson is called "Navigating the Fretboard" and it's a cute little etude that jumps up/down the neck. Will be a good one to learn for extra practice with this. Plus, it uses a swung rhythm so it's got an extra challenge FP Etude #13 doesn't have.

@lhamilton – Bravo, Linda! Timing and feel where excellent! One tip, try using ring and middle for the 3 – 2 – 0 pull-offs. IMO, pinky makes it harder to get it clean since it's the weakest finger.
Great job on the workaround for the thumb! Works well!

@felixhchan – Excellent performance and your uke has a beautiful tone 🙂

@ldarrow – Beautiful performance, Linda! My only suggestion is to try not to pull the 2nd string down in the FmM9. That way the note doesn't go sharp.

@coffeemug – I loved it! Gorgeous playing with a view and ambience to match it 🙂