November 15, 2022 at 7:37 pm
#54689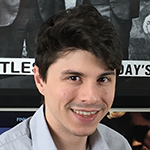 Andrew
Keymaster
@zongozongo – Very beautiful playing! The only thing I would suggest is working on some of the subtleties like eliminating unwanted string noise when changing chords. For example, listen to the change that happens at 20 seconds in your video. Try not to lift completely off the strings. That should fix that.
Double check the measure at 1:15. Sounds like you added a few extra notes there. And at 1:29, aim to play through your mistakes instead of restarting the measure. We always want to pretend like we're playing with a band, if we make a mistake they keep going.

@misterbones – Excellent playing, Michael! Very good job on the pacing!

@lhamilton – Beautifully played, Linda! One thing I want to point out is that it sounds like you changed the first hit of most measures to a quarter note. Try to keep the opening notes as 8ths to stay true to the original composition.

@laurakarr12 – Wonderfully played! Great job on the timing! The only thing I'm hearing that can be worked on is that some of the notes are a little buzzy. It's hard to diagnose as I can't see what you're doing, but I'd guess it's caused by not keeping enough finger pressure held down on the note.