October 10, 2016 at 8:44 pm
#8101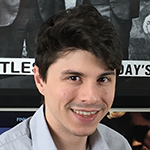 Andrew
Keymaster
Good question. The neck should rest where the X is shown in this picture.
This should help it stay out of the way of the first string, although this becomes challenging when fretting on string 4 and playing 1 open. Here's a video to help show the position.
Hope this helps!
This reply was modified 6 years, 11 months ago by

Andrew

.