Choose the Subscription that Suits Your Needs
BASIC MEMBERSHIP
FREE
Free Lessons: Sample Lesson Tabs
Free Lessons: Technique and Theory 101 Tabs
Ability To Post In Forums
Interact With Other Players
Best Value - Save 40%
ANNUAL MEMBERSHIP
$99/yr
Access To New Weekly Videos
Access To All Past Lessons
Access All Courses
Download All Tablature
Onscreen Realtime Tab Viewer
Email Support
Monthly Live Lesson
New: Banjolele Lessons
Low G Ukulele Lessons
U-Bass Lessons
eBook: How to Write a Song on the Ukulele
Free Lessons: Technique and Theory 101 Tabs
Ability To Post In Forums
Interact With Other Players
Cancel Anytime!
MONTHLY MEMBERSHIP
$14/mo
Access To New Weekly Videos
Access To All Past Lessons
Access All Courses
Download All Tablature
Onscreen Realtime Tab Viewer
Email Support
Monthly Live Lesson
New: Banjolele Lessons
Low G Ukulele Lessons
U-Bass Lessons
Free Lessons: Technique and Theory 101 Tabs
Ability To Post In Forums
Interact With Other Players
Cancel Anytime!
WHAT DO Rock Class 101 SITE MEMBERS HAVE TO SAY?
Listen To These Candid Comments From Site Members.
Testimonials
See What Our Members Are Saying About Rock Class 101.
"I'm a beginner ukulele player and I tried to learn alone with the help of online tutorials for a while... until I discovered your website. I love it and after less than a month of membership I can play some songs, and I can also understand how to put together melody and chords, how you can play a melody based on a specific chord, the difference between a simple melody and a melody enriched with strumming in certain parts or when there are 'accents'... I'm still a beginner, but now I understand what's going on a little bit more and I see I make progress. So, I only wanted to say thank you!"

Sara Tirabassi
Pisa, Italy
"As a novice, teaching myself to read sheet music and play the ukulele has been challenging. Practicing chords can be a chore, especially when all I want to do is start playing music. With RockClass101.com I am playing fun arrangements that inspire me to continue learning and improve. Playing the ukulele always lifts my mood, but playing rock-n-roll on the ukulele puts a big smile on my face!"

Maria A.
Los Angeles, California - USA
"This website has been so helpful with learning how to play the ukulele. The best thing is that I am able to learn a complete song, from start to finish. The way that Andrew goes step by step makes it easy to understand and implement! I have progressed much quicker than I expected. I really enjoy my ukulele. I have learned many songs from the website now! Keep rocking!"

Kelly Blackburn
Mesa, Arizona - USA
"Andrew and the Rock Class 101 program is the smoothest way to take your ukulele playing from basic strumming to complete and wildly passionate arrangements. My friends all want to know how I went from the basic player to a hit in a such a short time. When you first hear one of his arrangements, you think no way will I be able to do that. However, in such a short time you find yourself nailing each part that you thought you would never overcome. It's an amazing feeling. I recommend this site to anyone that will listen."

Jalen Macleod
Prince Edward Island, Canada
"This website is awesome! Andrew makes it easy to follow and easy to learn and makes playing the ukulele even more fun! I love how there is a wide variety of songs from classical to modern songs which helps widen your playing and skill. Brilliant website! Thanks Rock Class 101 for the great videos!"

Hannah Food
Leicestershire, United Kingdom
"Thanks to Andrew I've been able to take full advantage of the ukulele. Before I knew some songs, but they were very simple. Andrew teaches you practically the whole song, with the melody and that's totally awesome."

Antonio Iborra
Murcia, Spain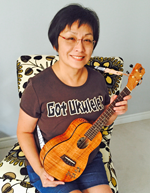 "I started playing ukulele one year ago without taking any lessons. I can read tablatures, but I can't sing. It comes natural that I prefer playing fingerstyle over strumming. Rock Class 101's 'Fly Me To The Moon' caught my attention. At first I thought it was a very difficult piece, because it sounds so pretty. To my surprise, Andrew's arrangements are manageable for all levels. They are a combination of fingerpicking and easy strumming techniques that add more flare to the songs. Within a day I could play 'Fly Me To The Moon' & 'Here Comes The Sun'. Rock Class 101 really made my ukulele sing!"

Brenda Lee
Ontario, Canada
"I have learned so much from Rock Class 101. The difference it has made in my playing is like night and day. I have surprised myself with some of the songs that I am able to play now, the tabs and tutorials on this site make it easy. I am very pleased with the variety of songs that are available and how frequently new ones are added. I would recommend Rock Class 101 to anyone who is ready to take their musical ability to the next level!"

Heather C.
St. Louis, Missouri - USA
"Rock Class 101 is beyond awesome. Andrew has a great way of teaching efficiently and effectively. His arrangements are really cool and his tablature is easy to follow. I love how each of his tutorials consists mainly of fingerstyle. I honestly feel he is the best online ukulele teacher out there...at least from all the countless ones I've tried. Andrew really is a class act, from his positive persona to his clean, ad-free site and plethora of great song tutorials. Thank you for all the great lessons Andrew!"

Allie M.
Tualatin, Oregon - USA
"If you want to bring your ukulele playing to the next level, Rock Class 101 is for you! Andrew's teaching is understandable, easy to follow and has heavily improved my ukulele playing skills. It is the only website that offers impressive arrangements in any genre you could wish for. Who knew you could play rock-n-roll and classical music on the uke? I've never been more satisfied buying a "premium membership" on any website before. It's a great deal, and in return you receive amazing lessons with an amazing teacher. Also, if you ever have any questions, Andrew is happy to converse through email. I would recommend this website to anyone!"

Paisia Warhaft
Vancouver, BC - Canada
"I have searched the internet all over, and never have I found a site so awesome as Rock Class 101. This site has literally the best arrangements I have ever heard. The TABS are clean and easy to follow. In about 7 months my sight-reading skills have increased from zilch, to being able to sight-read most ukulele TAB. My finger reach has increased greatly and chords in general have become way easier to play. And not only that, the ukulele is so much more FUN! I mean how cool is playing the backbeat, the melody, and the harmony all at once! And the best part is the arrangements keep on coming. I don't know where my ukulele playing would be without Rock Class 101, but it certainly wouldn't be here."

Joe S.
Clearwater, Florida - USA
"I was delighted to see the beginner course open in December 2016. It was just what I needed! Andrew and I have written back and forth several times about improving my playing. He even sent me a couple of videos to help me! Rock Class 101 is not only an excellent website, but Andrew has far exceeded any expectations I had of his willingness to help the students to learn the material."

Vida Fenton
Chemainus, BC - Canada
"I have been learning to play the ukulele for about 2 years now. I just wanted to say thank you for your teaching! It is really easy to follow along with you. I am now becoming more confident and faster at moving between chords and fingerpicking. Now my wife and kids don't mind me playing, lol, as I can get a tune out of my uke! I just wanted you to know how much I have enjoyed your lessons and can't wait until I'm playing more songs. You're a great teacher and a very talented musician. I love how simple you make the lessons!"

Anders Back
Glasgow, Scotland - United Kingdom
"My dog loves music, even my uke playing, and since I've started your lessons, I have improved enough that I might even play for a human audience. I'm 78, and my memory and dexterity are not sharp. But my playing and my enjoyment are at a new level thanks to your videos and downloads. I have looked at sample lessons on a dozen different websites, and Rock Class 101 is by far the most professional, comprehensive and user friendly. I love learning to play the uke like a real musical instrument with my favorite genres, classical and blues. I appreciate your quick responses when I had questions. I was a college professor for 35 years, and I know good teaching and good curriculum when I see them. Your program has both. Thank you."

Anne Boches
Gainesville, Florida - USA