Below is the lesson for "Day-O" (The Banana Boat Song) by Harry Belafonte.
Helpful Tips
A Jamaican folk song with a melody that's guaranteed to put a smile on your face! One of the reasons that I love this song, is because its melody is ingeniously birthed from simplicity. This is a 2 chord song. Let me say that again – this song only has two chords: C and G7.
Now I know what you're thinking, "what's the big deal about that?". Well you see, most folks think that complex songs are the most difficult to write. And generally, they very much are. BUT, it's equally as difficult to write a memorable melody when you're working with such limited harmony.
From a lesson standpoint, this is a great piece for the beginner fingerstyle player. It focuses on two aspects of playing: single-note melodies and plucking double stops (2 notes at once) or chords. In regards to the latter, Matt's going to show you a unique way to add a staccato effect to your pluck. If you've never heard of staccato, it essentially means you are shortening the duration of notes and chords. This is a really cool concept to learn, because it creates a completely different sound from the typical sustained playing approach.
Lastly, if you are a more advanced player, I'd recommend adding a backbeat to the rhythm (on beats 2 & 4). This will make the piece much more challenging, but so rewarding! Check out the intro of the lesson video to hear a short snippet of Andrew demoing this.
Part 1 – Performance & Free Lesson
Tab Play Along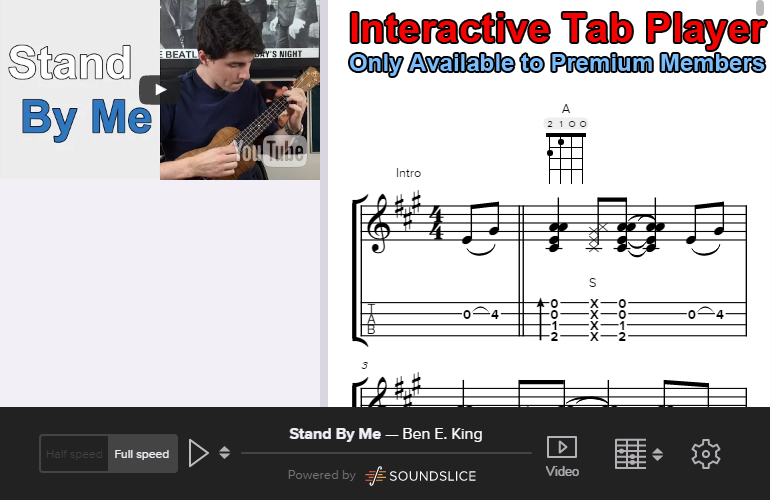 Backing Track Play Along (Sans Ukulele)