June 30, 2017 at 9:24 pm
#12592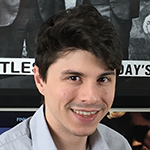 Andrew
Keymaster
I wasn't familiar with Jill, so I checked out that YouTube channel. The reason you find it difficult is the same reason that people struggle with lyric sheets that contain chords above them. That type of "sheet music" does not tell you how many measures to play each chord for.
The strum pattern you described is this rhythm: 1 2& & 4&. Does that make sense to you? If not, I would suggest you check out our beginners course. There's a lesson on understanding rhythmic notation which will help you understand how beats fit into a measure and how to count them. That lesson is followed by a lesson that has you fingerpicking and strumming simple rhythms while counting.
As a premium member, you have access to the on-screen tab viewer. So for the above lesson, you can play along with the exercises. You can even turn on the metronome and count along while you play.
Start out with these lessons and let me know how it goes. I'd like to see you participate in next month's challenge, which will be beginner themed. Details will be released tomorrow, so check back on the forum 🙂 Don't hesitate to email me or post here if you need any help.
Cheers,
Andrew