June 3, 2017 at 12:55 pm
#11901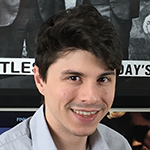 Andrew
Keymaster
Hey MT, great job! It sounds like you have just begun working on this tune. One thing they told us in college was this (and it applies to your comment about not knowing the SpongeBob Theme): Listen to the original song a lot, to help familiarize yourself with the tune. And couple that with listening to the arrangement too.
Since you've gone through the entire tune, I would break it into 2 or 4 bar sections, loop them, and work on playing them cleanly and in-time. Then work on the next couple bars and then the transitions. For example:
Nail bars 1-2
Nail bars 3-4
Nail bars 1-4
Then continue same process throughout the rest of the song. Check out our Practicing guide for more tips too 🙂 Keep up the good work!