October 10, 2016 at 5:54 pm
#8097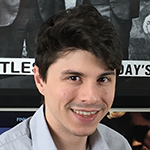 Andrew
Keymaster
I agree, it isn't the most intuitive program, but once you learn it, the benefits are amazing! I copied this from our FAQ page:
The Soundslice interactive tab player allows you to view the video, or audio only, while displaying the tab playback in real time. Begin by clicking on the play button. If you need to slow it down, you can click on the "gear" icon and slow the tempo down to whatever you want. You can also loop a section by highlighting a portion of the tablature. There are two ways to highlight and loop bars on an iPhone or iPad.
1) Double tap the bar. To select more than one bar, simply slide your finger across (beginning at the edge of the highlighted bar) and increase the selection to as many bars as you wish.
2) Tap and drag horizontally to highlight (loop) as many bars as you wish.
You can also pinch the tab to zoom out, or reverse pinch to zoom in. Here is a video demonstrating the iPad and iPhone features: Soundslice on the iPad
If you're having issues on a smartphone or tablet device, you may want to disable the video portion and only play the audio with the tab. You can do this by clicking on the gear icon and choosing the "audio only" version instead.
Here is a complete list of features with video demos: Soundslice Features