June 29, 2017 at 4:54 pm
#12541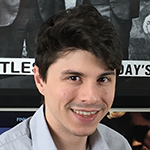 Andrew
Keymaster
Fantastic Brian (freeclmr)! One of the trickiest parts is definitely playing the chord section that is all the way up the neck. It's hard to fit our finger into those tiny frets, and because of that, we tend to pull the string up, causing the chord to go a little sharp.
A great way to practice that section, is to only play the chord changes by themselves. So there are four chords in that section, you could play the first chord and hold it out for a whole measure, then play the second chord, and again, hold it out for a whole measure. Then the same with the 3rd and 4th chord, and loop it.
This is a great way to help build muscle memory for the changes and to help hone in on playing the chords without bending the strings.
—-
Glad to have you here Connie! I would play the soprano for now if you are playing a song that has a far stretch. It takes a while to develop the stretch, so don't get frustrated or try to rush it.
You did extremely well, you should be very proud of yourself! Truly good job. Next month's challenge will be great for you too, as it will be beginner themed 🙂
—-
cyberloh – you came a long way since the first snippet you posted earlier this month. I can definitely tell that you put my advice into your practice, as your feel is perfect now. Great job! My only constructive feedback, is to continue working on the outro.
The feel is definitely the hardest and you've got a great handle on that now, great job!