July 3, 2017 at 1:00 pm
#12617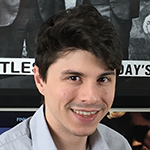 Andrew
Keymaster
Love seeing entries this early in the month 🙂
—-
jakeypoo – excellent playing and great timing! Keep up the good work 🙂
ookulee – good job! How did you approach practicing this piece? I would recommend to play with a metronome or the on-screen tab viewer. I would also recommend to count along while you play, this will help tremendously in developing great timing.
Start out working on a small section of the piece at a time (2 or 4 bars), before trying to tackle everything. Also, if you're new to counting and timing practice in general, check out our lesson on understanding rhythmic notation.
yoavlan – great job on the timing! I would recommend to memorize the piece, this way you can focus on how you're playing it, i.e. developing feeling. Try to add subtle dynamics to your performance, such as vibrato. A little goes a long way with dynamics. Keep up the good work!