May 17, 2017 at 10:42 pm
#11618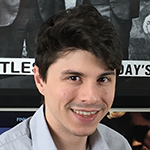 Andrew
Keymaster
Great job Maria Teresa (andracass)! Question, did you have a metronome on in the background?
So, this Friday's lesson will be a great one for you! It brings up some of the points I'm about to talk about with your performance. So def, make sure to watch it 🙂
Let's talk about the B melody, bars 11-12. Here we have a C to a G7. In part 2 of the lesson video for Fur Elise, it highlights the best fingerings to use for those 2 chords. The chord diagram on the tab also lists these fingerings. I would highly recommend to use the fingerings laid out here, it will make the transitions from 1 chord to the next much easier. If you are new to barre chords, check out this lesson for help on proper left hand form.
If you jump to 5:27 in the part 2 lesson video, I suggest a way to practice C to G7. Give that way a shot after you get the fingering down. You can always put it into a timing too. For ex: play C for 1 bar, then G7 for 1 bar and loop this. Start slow and work it up to speed as you get the muscle memory down for each chord.
You did very well on the A melody, great job! I would just loop the harder bars of the B melody and check your fingering on some of the other sections in that melody. Let me know if you have any questions.