May 17, 2017 at 10:47 pm
#11619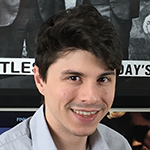 Andrew
Keymaster
Hey Gabriel, actually you can play In The Hall Of The Mountain King on a Soprano. In the helpful tips section (top of page) for that lesson, there is a note that says:
* Note: For Soprano ukulele players: Theme 3 and 4 expand past the 12th fret, but you can still play the entire song. Since we now know that the Themes repeat, you could play: Theme 1, 2, 1, 2, 5.
If your mom has questions about membership, please let her know that she can email me here 🙂 Looking forward to hearing your performance!